Do you dread the monthly task of manually processing payroll? Don't be ashamed if you answered yes, because that's completely understandable and you're not alone. Many Human Resources practitioners share the same sentiment as you do, which is why Bridge PayDay reinvented how you can leverage a complete, dynamic and powerful payroll solution to revolutionize payday. No more dreading on those days!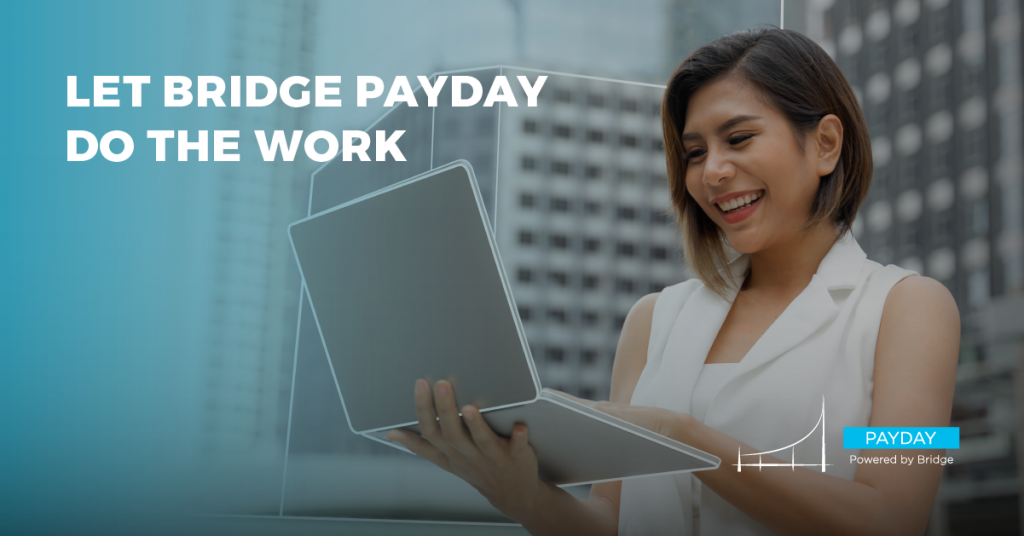 Let HR Focus On What Matters More
Switching to Bridge PayDay will allow you to outsource a lot of administrative tasks involved in payroll processing, which creates opportunities for HR to spend time and effort elsewhere while developing a better work-life balance. Imagine, gone will be the days where you have to keep track of changes in labor laws and tax tables that affect payroll computation. A great managed payroll system will take care of all of your compliance concerns and help expedite payments, and Bridge PayDay is here for you to assure that your people will be paid on time when they should.
Save on Time and Avoid Mistakes
Another benefit of payroll outsourcing is that it lets you cut down on cost. Your company can potentially save when the direct cost of outsourcing is cheaper than the direct cost of hiring a person to manually handle payroll. Plus, Bridge PayDay will help reduce errors that can be an added problem at your company's expense.
Keep Your Data Safe 
Enjoy the advantages of enhanced security that your outsourced payroll provider will ensure for your data. Even though companies have trusted employees, there is always the risk of embezzlement of funds, sharing of private data, tampering of files, and the like. With a managed payroll system, security threats will be prevented and reduced through implementing Bridge PayDay.
What are you waiting for? Make the switch today with Bridge PayDay. If you want to know more about our complete payroll solutions, send us an email at customersuccess@bridgesoutheast.com or BOOK A DEMO at bridgepayday.ph.