This article contains the official list of regular and special non-working holidays for 2023, based on the Official Gazette of the Philippines. The majority of regular Philippine holidays have set dates, while others are determined by religious observance. As per Republic Act 9492, these dates are subject to change based on the President's declaration.
Every year, Filipino employees and employers alike look forward to the announcement of the list of official Philippine holidays. Employees will begin to plan their vacations once the dates are set, and employers will begin to schedule shift rosters (where applicable).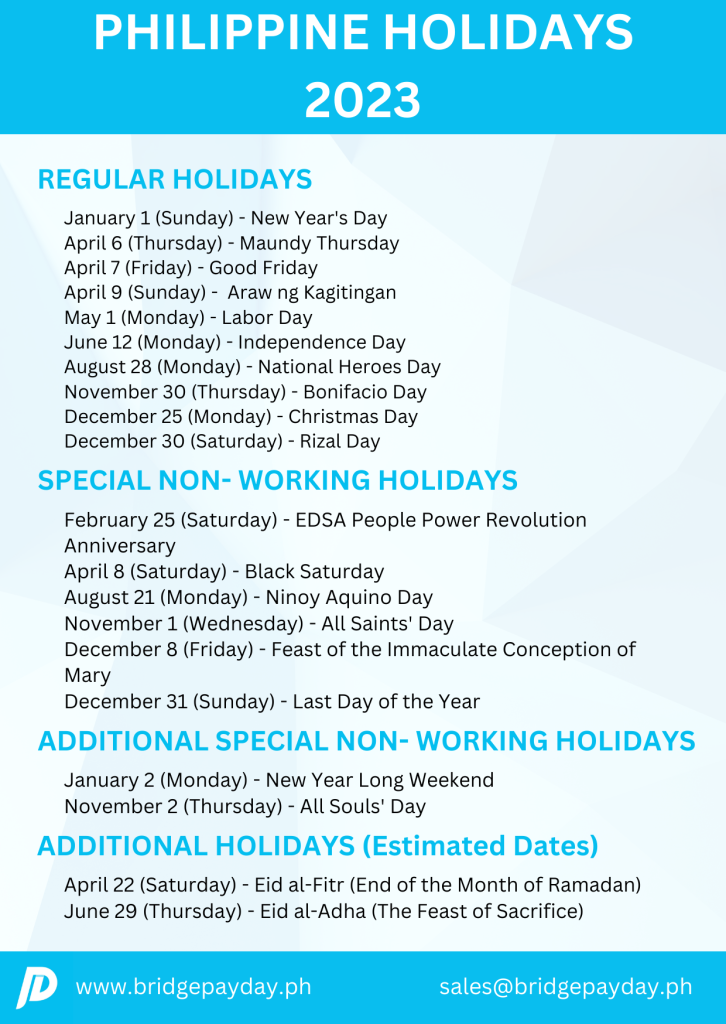 Pay attention to the extra-long weekends that result from the holidays; staff will try to make the most of them. Also, keep in mind that additional localized holidays (such as Manila Day and Quezon City Day) may appear on the calendar, as well as some impromptu holidays declared by the President when deemed appropriate.
Another good news! With PayDay Cloud, Philippine Holidays are manageable and readily available. These holidays are already included as part of your calendar setup. Any changes or new proclamations can also be easily updated. Human Resource personnel can even send the announcement to employees in just a few clicks.
If you want to know more about other helpful and awesome features of PayDay Cloud, please send an email to sales@bridgepayday.ph or book a demo now.